The Seagull ST19 may be the only choice currently for an affordable, fully mechanical chronograph movement, but it's also a great one regardless of what else is on the market. It boasts features that chronographs several times its cost don't have, while remaining a relatively dependable calibre.
First, it's an integrated chronograph movement , meaning that the chronograph complication is built into the main timekeeping mechanism. It's the original, but also more complicated way to construct the movement. However, because it functions as a cohesive whole, an integrated chronograph calibre is easier to maintain and service. Other alternatives, such as the ETA 2894 and SII NE88, while both great movements, are modular. As the name indicates, the chronograph mechanism in these is a separate component attached to the top of the main timekeeping module. While this makes them easier to manufacture, the separate modules make operation a little more finicky and repairs much more difficult (thus expensive).

""Most watchmakers will happily service an integrated chronograph, and for a modern caliber most can do so with considerable ease. Parts are generally readily available, and timekeeping and function are rarely a problem."
Second, the ST19 sports a column wheel. It requires extremely precise tolerances, and is more labor-intensive to produce than the alternative cam-actuated method. But its great advantage is it allows for a smooth chronograph action. The popular Valjoux/ETA 7750, for example, is cam-actuated, but even though it is much more expensive, its pusher action is a lot more clunky than that of the ST19.
Third, the ST19 has a long, rich history, beginning in 1961 when the Swiss movement manufacturer Venus (now defunct) sold its machinery, tooling, and blueprints for its 175 calibre to the Tianjin Watch Factory. The goal was to make Project 304, a watch for the Chinese Air Force. Thus, the ST19 is effectively the direct descendant of the Venus 175, with a few refinements added along the way (17 vs. 19 jewels, higher beat rate of 21,600 bph), and of course, now produced in a modern manufacture. Some express concerns about reliability, but many can be attributed to prejudices against anything made in East Asia (despite the fact that we're all reading this on the screen of highly-advanced technology made there). There's also the reality that chronographs are a great deal more complicated than conventional three-hand movements. By its nature, a chronograph needs more moving parts, thus requiring more maintenance—whether quartz, mechanical, Chinese or Swiss.

The ST19's column wheel close-up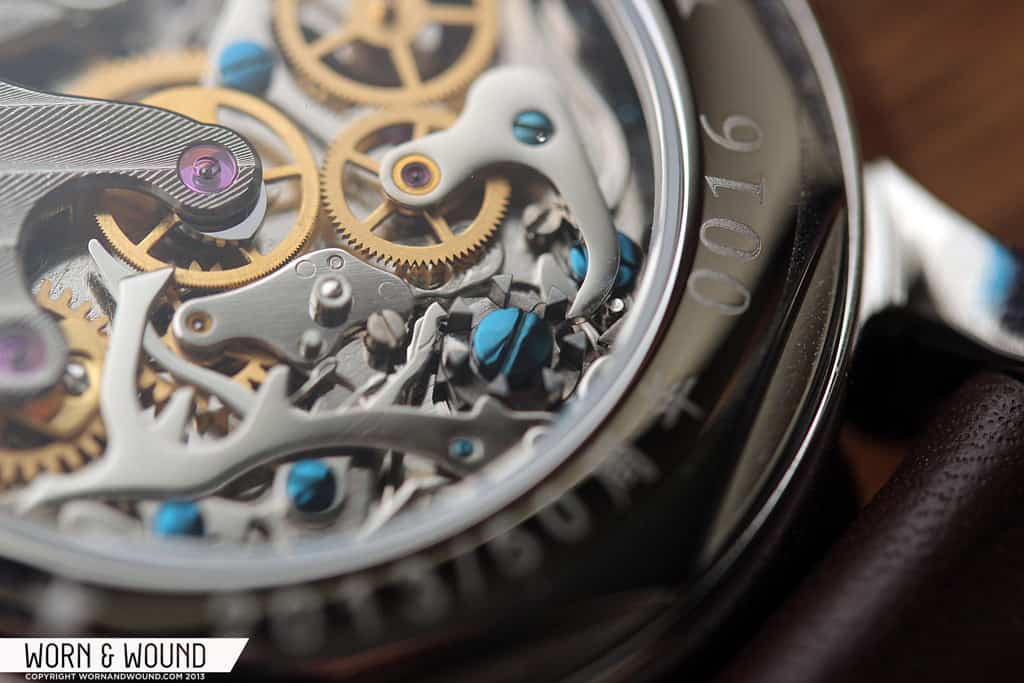 With that said, we take great care to provide the highest level of quality and reliability possible. Proper casing is extremely important for the ST19 in particular to maximize reliability, so we made the Gemini's case specifically for the ST19 (most cases are made with movement holders in mind for easier manufacturing and assembly). Each movement is also tested over a 72-hour period in three positions to ensure proper functioning, and personally inspected in the U.S. before shipping.
Overall, the ST19 may just be the best bang-for-buck chronograph movement available on the market today. It's got the romance of being fully mechanical, with crisp action thanks to its column wheel. Its integrated construction makes maintenance relatively easy, and on top of that, we're doing all we can to make sure it lasts you for many years to come.